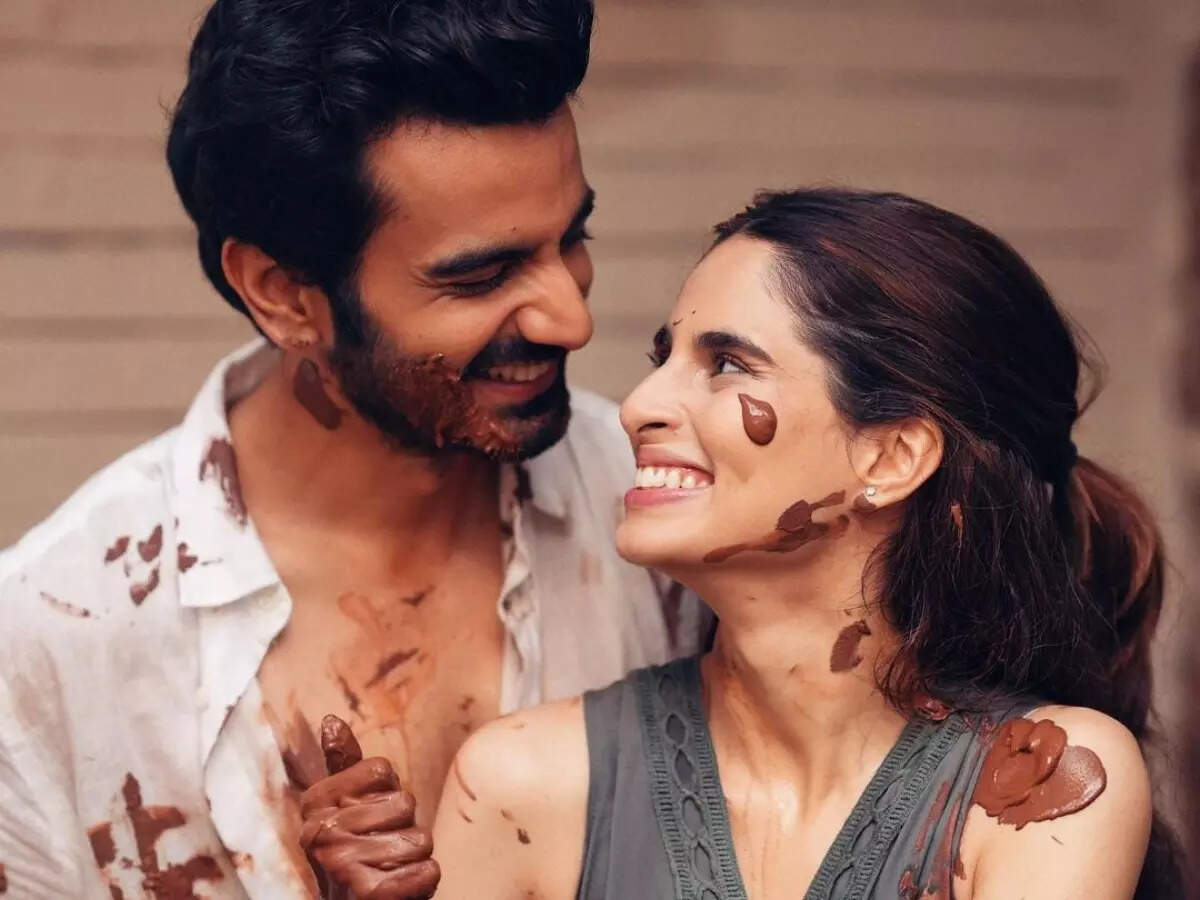 'Minus One: New Chapter' starring Ayush Mehra and Aisha Ahmed has begun streaming on Valentine's Day! Before we dive into the show, we inform the lead pair that the show has been giving fans and movie buffs the same vibes as an Imtiaz Ali film. Quite naturally, the actors are happy to hear that and tell us that it indeed has complex characters and emotions, with good music just like Imtiaz Ali movie. ETimes further gets chatting with the duo about the show and their idea of love in today's day and age.
While it's a romcom, it's not been an easy one to make. Ayush says, "It started off with workshops, we had 15 days acting workshops, 10 day intimacy workshop and then we had 10 days with the writer and director. It was a grueling process, but it was fulfilling." It's indeed refreshing sometimes to see a good love story or slice of life concept in the midst of serious cinema around us. Aisha agrees and adds, "There's a phase of everything. Initially, Bollywood was all about either love or action. With OTT coming in, every genre is being explored. We don't see too many love stories but Minus One is something that the millennials will really connect to. It's all human emotions and also tapping into grey areas."
But love in its complete form keeps changing each day. How do they see this change or what's their personal belief about love? Ayush expressed, "The idea of romance keeps changing as we are progressing further. People want to see what is real and not something like 'main chand taare tod laaunga'. You will question your relationship, your intimacy with the partner and you will question yourself after watching the show."
Aisha further adds that in general, the concept of love has changed. Ayesha further adds that in general, the concept of love has changed. "Earlier people were very giving but they were so giving that they would lose themselves. But now things have changed. Women want to be accepted for who they are and that's something I love. But in that also, the lines get blurred between standing up for yourself and pushing the person away. So, that's in a good way and bad way."
Ayush echoed her sentiment and added, "We always thought that showing the other person more love is the spectrum of love. But now it's also about you have to love youself only then you can love the other person. Sometimes you have to express it and people don't do that enough now. People are very scared to show vulnerability and love."
Ask their which is their favourite love story and Ayush says, "Jerry Maguire is my favourite film of all time. People view it as a sports film but I think it's a love story."
Aisha has two forever favourite love stories. "One is 'Notting Hill' and the other is 'Veer Zaara'. I just melted when Shah Rukh was holding Preity Zinta and saath hi helicopter pe leke jaa rahe the."
Ayush sums up, "We can enjoy watching 'Veer Zaara' but real life mein toh 'Minus One' hi hoga." The show also stars Kusha Kapila and is streaming on Lionsgate Play.
Source link